This is my third and final celebration. Promise! It's just so hard trying to get people together plus
Milenyo
even made it more difficult. But thank God it finally pushed through.
It was Friday the 13th but no crazy stuff happened. Just crazy fun! At the function room of the Shang Grand Tower all the special people in my life came. My family and relatives, people from the office, my highschool friends, AIM friends and the J Boys and Girls.
It was a night full of lechon, Cerveza Negra, singing and laughter! Check out the pics below.
The Princess and her family

Bossom buddies
J Boys and Girls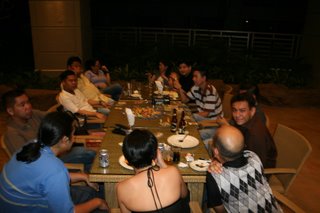 Friends from Ateneo and AIM
Friends from St. Scho
Me and my BFF!
here
. Photos courtesy of my brother Jong.